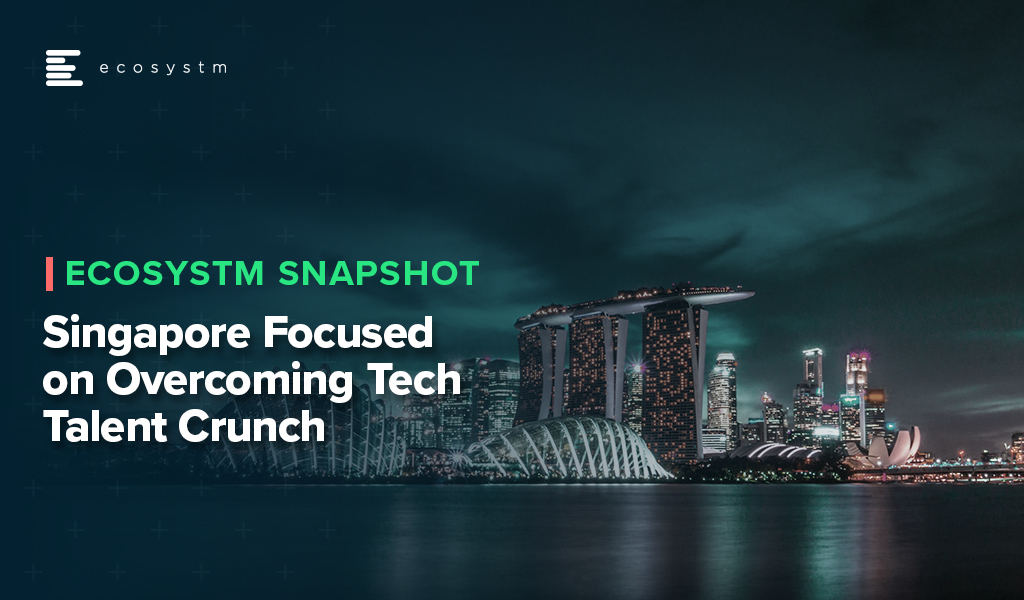 As the economy looks to recover from the devastating impact of COVID-19 in 2020, businesses in Singapore are gaining momentum through technology leverage, and wider adoption of digital platforms. The disruption has led to a higher dependence on and appetite for technology to rebuild industries such as Healthcare, Financial Services and Manufacturing. Organisations are re-engineering their processes to go digital and this has driven the need to re-skill and upskill.
Growing Need for Tech Talent
Even before the pandemic, there was a shift of business focus on the Asian and Southeast Asian economies, that has led global companies and investors to flock to Singapore as a regional hub. Many of these companies are technology providers and as Singapore looks well-positioned to recover from the pandemic, these companies find themselves delivering on multiple transformation projects across industries. This has led to an increased demand for tech experts, The growing demand, combined with travel restrictions and a focus on ensuring Singaporeans are a priority for employment opportunities, has made the tech community anxious about the talent availability and the possibility of a talent crunch.
Ecosystm Principal Advisor Ravi Bhogaraju says, "Tech talent crunch is very palpable in the Singapore market today. The primary drivers of the crunch have been the change in the immigration policies due to the COVID-19 disruption followed by the huge increase in the demand for technology skills in the last 12-18 months. This gap will continue to rise over the next years as more technology firms expand or set up their base in Singapore."
Skill Development Efforts and Programs
With this in mind, the Government of Singapore is focused on addressing this concern through various innovation and skills development programs. For instance, the Economic Development Board (EDB) has introduced programs to grow the talent pool, partnered with institutions and organisations for reskilling programs and supporting skills development with help of other companies.
Some more Government-supported initiatives to bridge the skills shortage include Singapore's Global Ready Talent Programme (GRT) which aims to build talent pipeline by exposing Singaporeans to internships and work opportunities overseas, TechSkills Accelerator (TeSA) and Professional Conversion Programmes (PCP), to provide training on knowledge and skills to support expansion plans.
The Government has also increased its spending on digital initiatives to help SMEs and empower them to hire more specialised manpower in focus areas such as AI, cloud, IoT, and data analytics.
Singapore's Tech.Pass visa program is another initiative to invite qualified individuals to work and operate in Singapore. It supports the entry of up to 500 proven founders, leaders and experts from top tech companies into Singapore.
Bhogaraju says, "The skills gap needs to be bridged with talent that is ready to step up and take on the new roles. To that end we see that the Singapore Government is making the right investments in the Skills Future program. There are a few pillars currently in play that are addressing different elements of the talent skilling initiatives. The key pillars are talent reskilling, experiential training, work-learn programs, and implementing new education curriculum. These are well designed in line with the skills frameworks and are meant to address the skills development for mid-career professionals to students in polytechnics and university programs."
Tech Companies Need a Long-term View
However, Bhogaraju notes, "That's only one side of the equation – the other element of the partnership is the companies that need these skills and how they are thinking of approaching the skills they need. Here there are some good examples of public private partnerships to help bridge the skills. However, in many cases the companies are still struggling to fill the positions – and that is because they use an age-old strategy of 'let's attract the talent' to come work for us. In a time when there is limited talent in the pool – this strategy will only result in spinning wheels and expending energy."
"Companies need to fundamentally rethink their talent pooling and development strategies to be able to deliver good quality talent. They need to develop a strategy that focuses on reskilling, finding new talent pools, leveraging the gig economy and developing their existing talents into adjoining pools to be able to fill these gaps effectively."
---
As the nature of work transforms, many professionals will be challenged to learn new skills to address the skills gaps. Create your free account on Ecosystm Platform to access research, data and insights on the emerging technologies, the supply of skills and the demand for tech talent to address the mismatch.