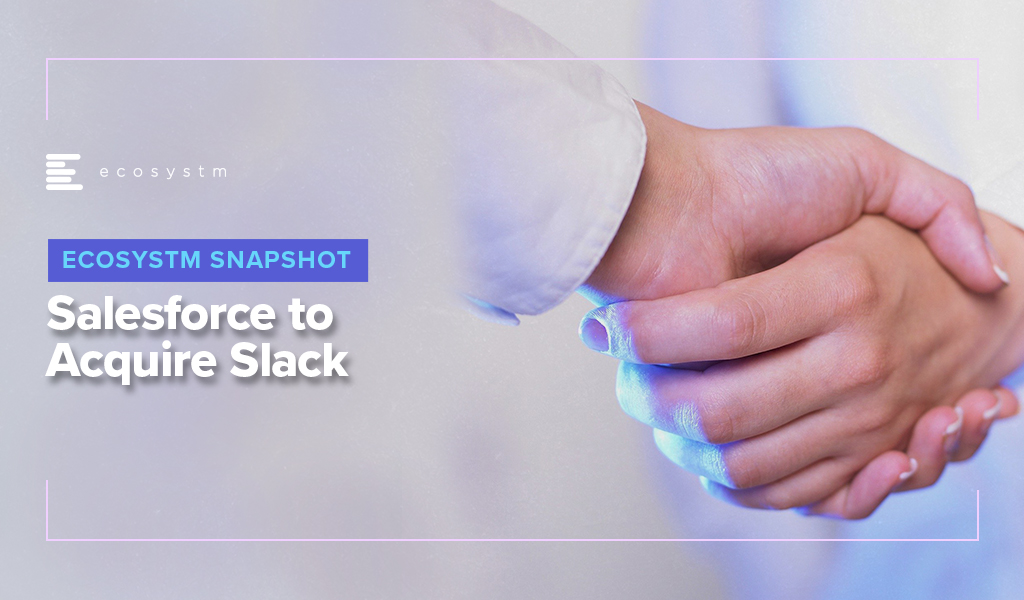 Last week Salesforce announced that they will acquire Slack in a deal worth approximately USD 27.7 billion in their biggest purchase ever. Salesforce aims to ease the communication and collaboration process for information workflow across business apps and systems by integrating Slack into Salesforce cloud – Slack is set to be the new interface for Salesforce Customer 360. The deal is expected to complete in 2021, after shareholder and regulatory approvals.
Slack has carved a market presence as an all-in-one platform for voice, video, and collaboration. The acquisition of Slack will help Salesforce provide a more comprehensive services offering in a fast-growing SaaS business market.
Salesforce Continues to Broaden Horizon
Salesforce has been diversifying their offerings steadily over the last few years. Salesforce launched Chatter, the industry's first cloud-based enterprise social collaboration application platform in 2010 globally; acquired cloud based word processing application Quip in 2016 for about USD $750 million; acquired Mulesoft in 2018, to unlock an entry into hybrid deployments and on-premises software. In 2019, Salesforce acquired Tableau – a leader in data visualisation for nearly USD 15.7 billion purchase and recently announced Salesforce Anywhere as innovation across Customer 360 to enable remote working.
With the acquisition of Slack, Salesforce is making a move to further develop their presence in the enterprise space – an area where Microsoft has an advantage with their Microsoft Teams and a suite of enterprise solutions.
Ecosystm Comments
The challenges to make the Slack acquisition valuable for Salesforce are many and difficult (and the significant hit to their share price reflects the market perception of these challenges). Many believe that Salesforce will be able to better compete with Microsoft due to the larger enterprise base and the larger enterprise salesforce. But that didn't help Google accelerate into the cloud collaboration space. They sell advertising into many millions of enterprises across the globe – but selling advertising and selling collaboration platforms takes a very different capability to a very different audience. Salesforce sometimes prides itself on the fact that their buyers are NOT from IT – they are the heads of sales, marketing, customer experience etc. Attend any Salesforce event and you understand that only a small fraction of their audience are technology professionals. But these technology professionals are the ones who buy communications and collaboration tools and suites. They were the ones who turned to Microsoft Teams en-masse towards the beginning of the pandemic.
Possibly the biggest opportunity for Salesforce is to make Slack the default application interface for their applications and processes. One of the Salesforce's ongoing challenges is the fact that – despite how easy to use or attractive their interface is – many users don't want to use it! Salespeople want to sell; marketing people want to drive market outcomes. Salesforce supports these processes – but it can also get in the way (when not designed effectively). Slack gives Salesforce (and other application companies) a standard interface to provide the information employees and customers want or need in context. For example, instead of an email to HR asking for leave balance – or even needing to login to the time management systems – a user could ask a Salesforce (or other application) chatbot how much leave they have remaining for the year; a salesperson could ask what their best opportunities are. And in a chat or a collaboration session, Salesforce could feed data or insights directly into the conversation or alongside it.
Application switching is still one of the biggest killers of productivity. The era of the "zero-interface" application is quickly approaching – and the Slack acquisition gives Salesforce the ability to accelerate its move to this era. It also gives Salesforce the ability to extend the use of its core platform beyond the traditional users to the broader workforce.
---
Download Ecosystm Predicts: The Top 5 Cloud Trends for 2021
The full findings and implications of The Top 5 Cloud Trends for 2021 are available for download from the Ecosystm platform. Signup for Free to download the report.