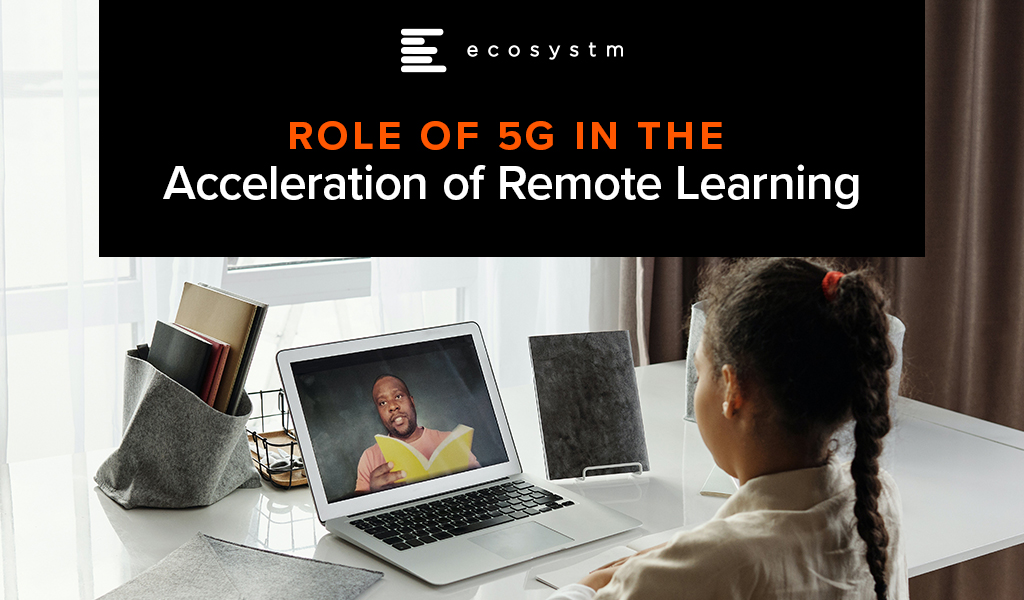 The last year has really pushed the Education sector into transforming both its teaching and learning practices. The urgency of the situation accelerated the use of networking to extend the reach and range of educational opportunities for remote learning.
Education technology has rushed to embrace opportunities to facilitate a new normal for Education. This new normal must enable and support education access, experiences, and outcomes as well as aid in developing strong relationships within Education ecosystems.
Education technology, commonly known as EdTech, focuses on leveraging emerging technologies like cloud and AI to deliver interactive and multimedia coursework over online platforms. This also requires a state-of-the-art network to support. 5G provides instantaneous access to cloud services. Use of 5G – as well as network function virtualisation (NFV), network slicing, and multi-access edge computing (MEC) – has the capability of delivering significant performance benefits across these emerging educational applications and use cases.
At present, many educational institutions are aware of the possibilities, but are not active users of 5G network infrastructure (Figure 1).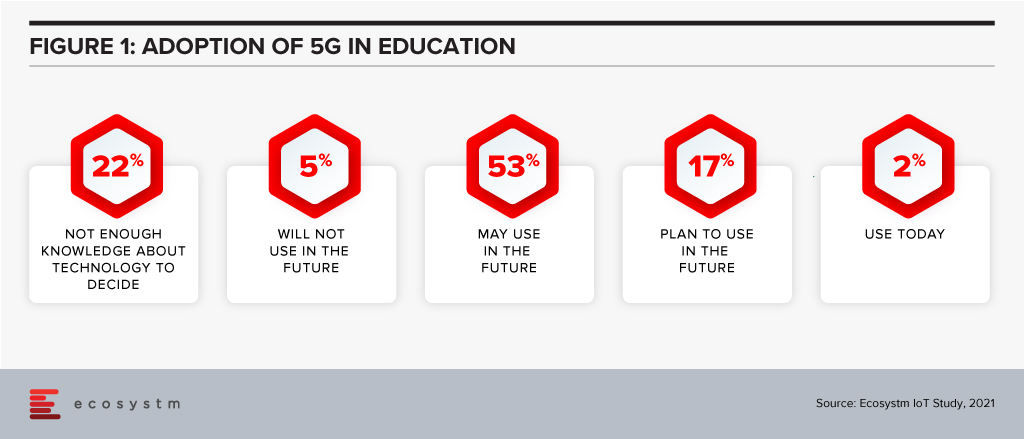 Educational institutions plan to do some near-term investments but are not clear in what areas to apply the enhanced capabilities (Figure 2).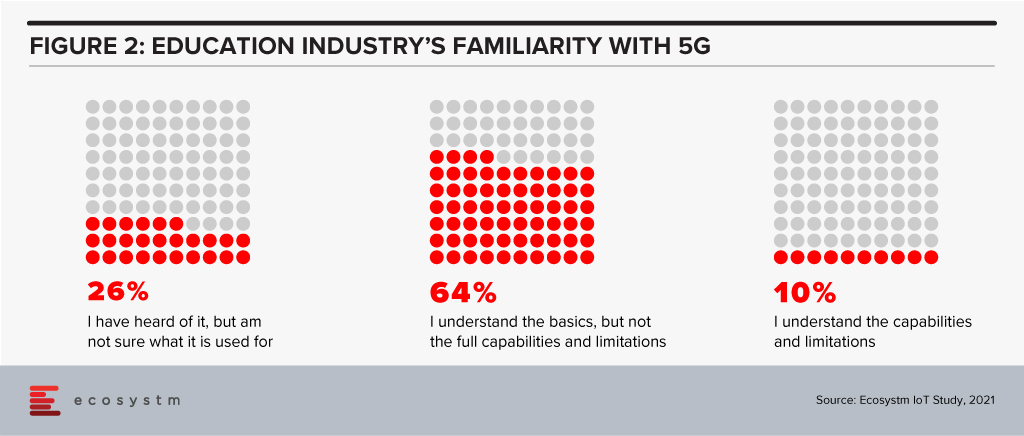 Role of the Network in Adaptive Learning
In their recent whitepaper, network provider Ciena talks about "the concept of an adaptive learning strategy – a technology-based teaching method that replaces the traditional one-size-fits-all teaching style with one that is more personalised to individual students. This approach leverages next-generation learning technologies to analyse a student's performance and reactions to digital content in real-time, and modifies the lesson based on that data."
To create an adaptive learning strategy that can be individualised, these learners need to be enabled by technology to be immersed in a learning experience, complete with multimedia and access to a knowledge base for information. And this is where a solid 5G network implementation can create access and bandwidth to the resources required.
Example of 5G and Immersive Learning
An example of adaptive learning where the technology not only supports but challenges the learner can be found in a BT-led new immersive classroom developed within the Muirfield Centre in Cumbernauld, North Lanarkshire, using innovative technology to transform a classroom into an engaging and digital learning environment.
Pupils at Carbrain Primary School, Cumbernauld, were the first to dive into the new experience with an underwater lesson about the ocean. The 360-degree room creates a digital projection that uses all four classroom walls and the ceiling to bring the real-world into an immersive experience for students. The concept aims to push beyond traditional methods of teaching to create an inclusive digital experience that helps explain abstract and challenging concepts through a 3D model. It will also have the potential to support students with learning difficulties in developing imagination, creative and critical thinking, and problem-solving skills. BT has deployed its 5G Rapid Site solution to support 5G innovation and digital transformation of UK's Education sector. The solution is made possible through the EE 5G network which brings ultrafast speeds and enhanced reliability to classrooms.
Conclusion
5G is expected to provide network improvement in the areas of latency, energy efficiency, the accuracy of terminal location, reliability, and availability – therefore creating the ability to better leverage cloud capacity.
With the greater bandwidth that 5G provides, learners and instructors, can connect virtually from any location with minimal disruption with more devices than on previous networks. This allows students to enjoy a rich learning experience and not be disadvantaged by their location for remote learning, or by the uncertainty of educational access. This also provides more possibilities of exploration and discovery beyond the physical confines of the classroom and puts those resources in the hands of eager learners.
---
As educational institutions reopen, institutions are looking at ways to redesign the education experience. Connected devices are helping schools and universities expand the boundaries of education. Explore what the IoT-enabled future of education would look like