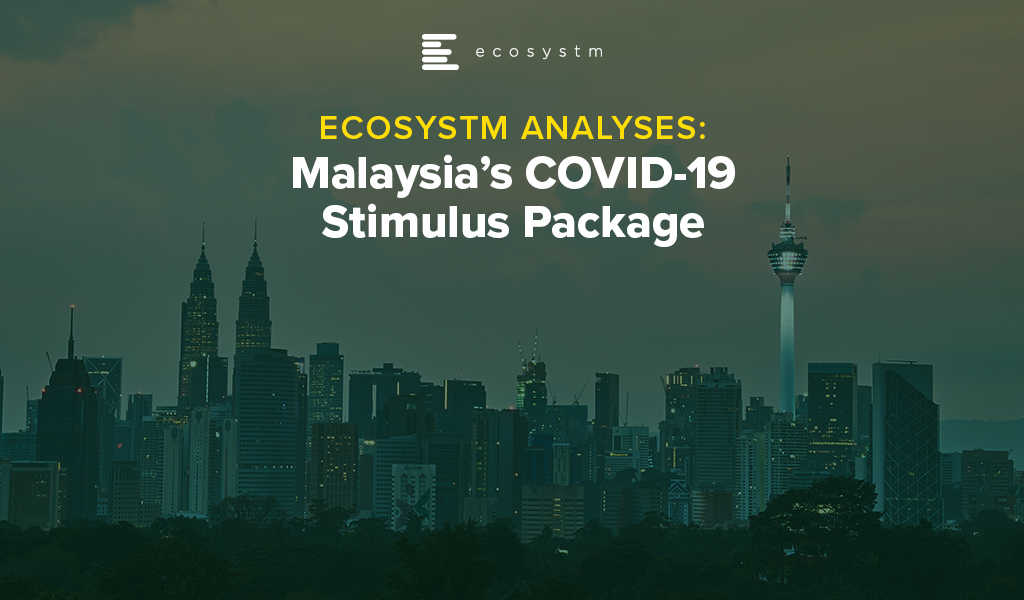 The COVID-19 pandemic is debilitating industries, and economies around the world are facing the prospect of a recession. Malaysia, like many other countries, is focussing on front-line medical efforts and security services to save lives and contain the deadly, rapidly spreading virus. Essential services such as food, water and energy supply, Telecommunications, Banking, eCommerce and logistics are working overtime in this new order to support basic functions. The measures put in place to mitigate the spread of the virus are obviously inhibiting other economic activities.
Until enough people develop an immunity to the virus – either through a vaccine or naturally – it is hard to envisage lifting these movement control measures and return to a pre COVID-19 state. Malaysia has a total of 4,987 positive cases, the highest in Southeast Asia and a death toll of 82 as of today. The number of the population tested remains low at 81,730 as reported by the Ministry of Health, mainly due to limited testing resources.
The biggest challenge is that this epidemic is unprecedented, and it is unclear when we can put this situation behind us. The Malaysian Industry of Economic Research (MIER) has predicted about 2.4 million job losses as well as the GDP to reduce by 2.9 percent in 2020. Public debt rise coupled by reduced income due to lower crude oil, natural gas and palm oil prices and demand, will hit the Government coffers hard. Interest rates are expected to be low through the current lockdown stage right up to the recovery stage to help support the economic recovery.
Government Initiatives for the Economy
Like many countries, Malaysia has announced economic stimulus packages to ensure help for the poor and needy, that workers do not lose their jobs and that companies avoid bankruptcy – albeit with an inevitably reduced output – to keep the economy functioning. The stimulus offered is short-term covering a few months, and more assistance will be required should the epidemic linger and for the recovery period.
The Government announced a stimulus package on the 27th February worth RM20 billion (US$4.5 billion) and another one on the 27th March worth RM230 billion (US$52.6 billion). The packages comprise of direct fiscal injection of RM25 billion (US$5.7 billion) as well as loan deferments, one-off cash assistance, credit facilities and rebates. The focus of the stimulus packages is to assist people in the lower-income (B40) and mid-income (M40) groups, aid for employees in the private sector and for traders during the movement control order (MCO) which is to run until 14th April 2020.
An additional COVID-19 stimulus package worth RM10 billion (US$2.2 billion) was announced on the 6th April to address the challenges of the small and medium enterprises (SMEs) that employ two-thirds of the workforce and contribute to 40 percent of the GDP. The wage subsidy is to benefit 4.8 million workers earning less than RM4,000 (US$915) per month. In addition, SMEs will have access to interest free loans of RM200 million (US$45.7 million) from the National Entrepreneur Group Economic Fund and a further RM500 million (US$114.4 million) via Bank Simpanan Nasional. The Government allowed 750,000 SMEs to postpone income tax payment for three months from 1st April – companies in the tourism sector are allowed to postpone income tax for six months.
Impact on Industries
Banking & Financial Services. Banking institutions will support the Government's stimulus initiatives by providing a six months' loan repayment moratorium, corporate loan restructuring and conversion of credit card balance to long term loans. Banking and financial institutions are focussing on business continuity planning to ensure minimal disruption to their business and customer support. Many key business processes are now being put to test in-home working with scaled-down office operations. Digital Transformation (DX) has been accelerated as a result.
Contactless payments have seen a boost and many financial institutions have increased payment limits for such payments. Early last month the World Health Organisation (WHO) and the Bank of England had issued advisories against the use of banknotes, as it could increase the chances of the virus spread, instead recommending the use of contactless payment where possible. This might give a boost to the use of Cryptocurrency and cross-border payment services in Malaysia. In 2019, cryptocurrency start-ups received an estimated 12 percent of Fintech funding – but, only three cryptocurrency exchanges were given conditional approval by the Securities Commission. The current situation may well see that changing.
Insurance. The Prime Minister announced that the Insurance industry is to create a fund of RM8 million (US$1.8 million) to cover the cost of RM300 (US$68.6) per policyholder to undergo COVID-19 tests. In addition to this, insurance companies are to offer a 3-month suspension on premiums for policyholders whose income is affected by the pandemic.
Agriculture. Even prior to COVID-19, there has been a brewing narrative against globalisation, favouring a nationalistic emphasis as reflected globally by Brexit and the China-US trade wars tension. Food security is key, and COVID-19 has further highlighted its importance with priorities shifting to local requirements over exports. The Government intends to distribute a food security fund of RM1 billion (US$228.8 million) to increase the local production of farms, fisheries and livestock. According to the Department of Statistics, Malaysia's food and beverage imports amounted to RM54 billion (US$12.3 billion) in 2018 while food exports stood at RM35 billion (US$8.0 billion) resulting in a trade deficit of RM18.8 billion (US$4.3 billion). As countries focus on internal supplies instead of exports in the current scenario, Malaysia needs to address this risk by producing more locally.
Impact on Industry Transformation
Amidst the gloomy outlook, there are plenty of opportunities, especially to the country's Digital Economy. Malaysia has been committed to the Digital Economy vision with the Malaysia Digital Economy Corporation (MDEC) estimating that the country's Digital Economy is worth US$3 trillion. The COVID-19 crisis may well be the key driver in achieving that vision. DX efforts are being accelerated with businesses adopting more cloud and mobility solutions. More workloads have to be digitalised and there is greater adoption of Cloud for storage and services. AWS, Microsoft Azure and Google Cloud will be beneficiaries in this area.
I have already spoken about the Financial Services industry – other industries are also getting transformed out of a necessity to survive this crisis. The Education sector has seen an increase in access to educational content and traffic to education portals and blogs. Some schools have implemented online lessons and group chats between teachers, students and parents to ensure education continues through this pandemic. Many universities have used their e-learning platforms to move lectures online.
The Telecommunications industry is being appreciated more than ever and it is the backbone to normal life, in both a social and business sense. The Government's stimulus package includes offers of free internet to all customers until the MCO is over at RM600 million (US$137.3 million) and an investment of about RM400 million (US$91.5 million) to improve coverage and quality of service. Leading operators Maxis, Digi, Celcom and U Mobile have offered 1GB free data during the MCO period. The Axiata Group recently announced a cash fund of RM150 million (US$34.3 million) to assist micro-SMEs within the ecosystem providing eCommerce, digital payments and related services.
Video conferencing traffic is on the rise as it is the next best thing to face-to-face meetings. Microsoft Teams and Zoom have been the biggest winners so far. The home working trend should continue in the recovery stage and beyond, due to improvements in the telecommunications infrastructure and the impending rollout of 5G.
The eCommerce sector should see a major improvement in Malaysia with physical channels to the market being suspended. Malaysians have not embraced eCommerce like mature economies have, and it has significant room for improvement. Development of the SME sector and eCommerce are twin focus areas for the Digital Economy vision. Statista reports that the average Malaysian eCommerce shopper spent just US$159 on online consumer goods purchases in 2018, considerably lower than the global average of US$634. There is huge opportunity to provide for necessities such as online grocery, food and delivery of goods. As a consequence, the Transport & Logistics sector will have to adapt their business operations in order to ride this wave successfully.
Video streaming and gaming has also seen an increase in consumption in these times as they provide for entertainment for millions stuck at home. Netflix, YouTube, Microsoft Xbox and PlayStation are among the winners in this sector. YouTube provides for a primary news source and commentary on the epidemic for many. There provides a tremendous opportunity for both telecom operators and content providers to increase their number of services in this area.
Malaysia, like all other countries, will have to ride out this wave. It has made a positive step in the direction with the stimulus packages, especially for the SME sector. How well the country rides this wave out will depend on how targeted the future stimulus packages are and how fast industries can transform to handle the new world order that will emerge after the COVID-19 crisis.