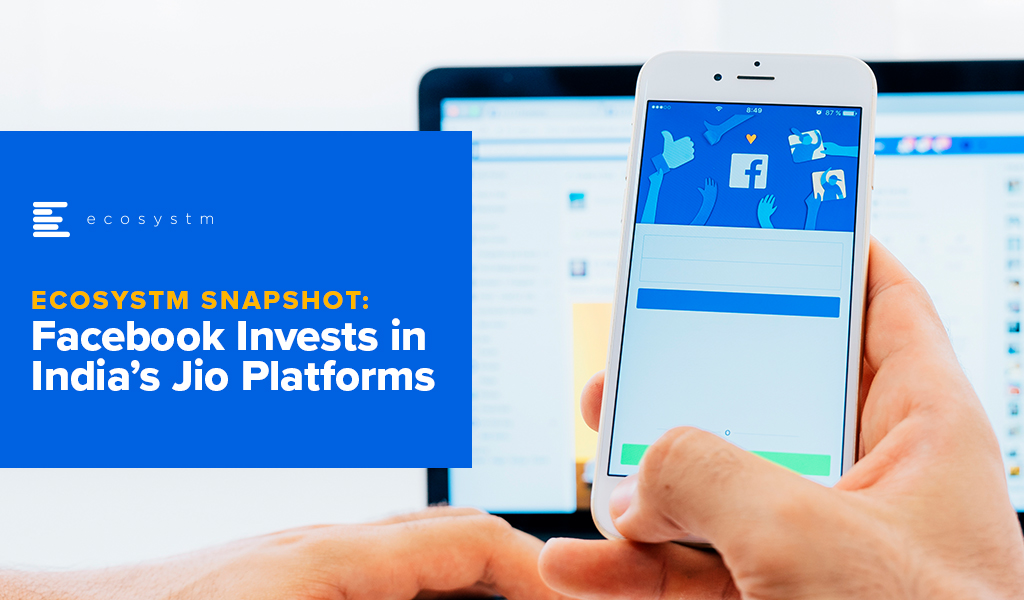 India has clearly been a target market for Facebook due to the size of the country's untapped market and the proportion of its younger population. It is estimated that nearly 45% of the population is below 25 years – a prime target for social media and eCommerce platforms. Facebook's Free Basic program, launched in 2016 to introduce the potential of the Internet to the underprivileged and digitally unskilled, failed primarily because it did not have knowledge of the telecommunications market in India. Facebook returned to the India market the following year, this time in collaboration with Airtel, to launch Express WiFi, aimed at setting up WiFi hotspots to provide internet in public places – again aimed at India's connectivity issues.
Making its largest foray into the Indian market yet, last week Facebook announced that it is investing US$5.7 billion in Jio Platforms – India's largest telecom operator – for a 9.9% minority stake. Facebook makes its intentions very clear and is targeting the 60 million small and medium enterprises (SMEs) who can be the backbone of India's growing digital economy. This includes a rather unorganised retail sector, which has had to adopt digital at breakneck speed following the Government's earlier financial reforms, which impacted the smaller retailers, dependent primarily on cash transactions. Facebook is by no means the only global giant with an interest in India's retail business – with Amazon and Walmart leading the way.
The JioMart and WhatsApp Pilot
Just days after the announcement, JioMart – an eCommerce venture also a wholly-owned subsidiary of Reliance Industries, like Jio Platforms – has launched a pilot in Mumbai which allows users to order groceries through WhatsApp. Customers can now place grocery orders through WhatsApp Business with JioMart reaching out to small-scale retailers and brick and mortar stores – or "Kirana stores" as they are referred to in India – to fulfil the order. More than 1,200 local stores have been engaged for this pilot. It currently does not include a digital payment option and invoices and alerts are sent through WhatsApp. Mukesh Ambani, Chairman and MD of Reliance Industries, says that the JioMart and WhatsApp collaboration has the potential to make it possible for around 30 million neighbourhood stores to transact digitally.
India Emerging as the New Battlefield
India is an important eCommerce market for global giants such as Facebook and Amazon, who have struggled with establishing a presence in China. Walmart has also set it its sights on India, with its recent acquisition of Flipkart. Ecosystm Principal Advisor, Kaushik Ghatak says. "India represents the final frontier, where the battle lines are being drawn, and the three are heading towards a collision path. Facebook's recent move has just upped the game for Amazon and Walmart, as well as for the eCommerce and Fintech start-ups who have been eyeing this market."
Amazon has been the early mover, establishing its eCommerce presence in India way back in 2013. Ghatak says, "From its initial marketplace approach of curating suppliers to start selling on its platform, Amazon graduated to offering its own delivery and fulfilment services, by establishing dozens of warehouses across India. This was to ensure the quality and timeliness of deliveries, upholding its 'Fulfilment by Amazon' (FBA) brand promise. There was a considerable cost though, in terms of time to ramp up and investments – with the associated asset risks. Also, reaching out to the diffused retail sector, with their non-existent or very low level of digitalisation, has been difficult for all the major eCommerce players such as Amazon and Flipkart. Jeff Bezos' announcement of an additional investment of $ 1 billion, earlier this year, to digitise SMEs, allowing them to sell and operate online, is a step to extend its reach into this diffused retail market."
JioMart's model, according to Ghatak is in stark contrast to Amazon's. "JioMart's currently ongoing pilot in Mumbai is a classic B2C marketplace model, with little or no asset risk. The orders placed by the customers are routed to the nearest Kirana store based on stock availability, with the customers going to pick up the ordered items themselves at times."
Ecosystm Principal Advisor, Niloy Mukherjee says, "Jio has unparalleled market access in India with reports showing north of 370 million subscribers. Even at a $1.7 per month revenue from such a huge number, one can get to a $7.5 billion-dollar annual business. But even this is dwarfed by what that subscriber base itself is worth – through the data it provides, the products that can be sold and so on. Similarly, WhatsApp will prove to be more important than Facebook in India, with more than 400 million users. Using WhatsApp to get Kirana stores to do delivery can be a true game-changer."
Talking about how this competes with Amazon, Mukherjee says, "This can eat into the business of an Amazon and my guess is, it will be far more efficient. The proximity to the customer will allow multiple deliveries per day at short notice, and fresh produce guarantees – maybe even door returns if not satisfied – that would be hard to match. Given the traffic situation in large Indian cities, delivery logistics from a more distant source will always struggle to compete. This is one tip of a multi-pronged spear – there are obviously other products that can be contemplated, leading to additional revenues."
The Possibilities Ahead
Mukherjee explains why he thinks Facebook invested in Jio Platforms, rather than just forging a collaboration model. "Clearly both parties want to tie the other down and make sure that this alliance is long term. And this possibly means revenue will be shared instead of the usual commission model. Also, the go-to-market implications can run to more than just the Indian market. WeChat Pay is huge in China but not really elsewhere. If this works, there could be a potential "WhatsApp Pay" in the rest of the world. For Jio who already dominates the telecom landscape in India, this deal is a step towards taking their earnings to a new level, above the top end of the telecom category – they can access profit pools available to hardly any telecom provider worldwide."
At a time when a market entry for foreign players in India is getting tougher with increasing regulatory pressures, a tie-up with the biggest player in India is indeed a very promising step – for both Facebook and Reliance. "For Facebook, this is a great opportunity to take its dependence away from a primarily ad-driven revenue model. The digitalisation of the diffused retail sector in India will open up new revenue opportunities from its WhatsApp Business App, WhatsApp Business API, and WhatsApp Pay-UPI gateway (pending regulatory approval). There is a potential of revenues from a variety of marketing services, membership fees, customer management services, product sales, commissions on transactions, and software service fees," says Ghatak.
Talking about the potential for Reliance Industries, Ghatak says, "The technology horsepower of Facebook will help propel them ahead of Fintech and eCommerce companies in India – challenging already established players such as Amazon and Flipkart, and the newbie start-ups. Ability to drive transactions and digital payments in the diffused retail sector will open up huge revenue opportunities that were largely untapped until now, with low asset risks. Also, this sector has traditionally operated on a cash-based model and the recent COVID-19 crisis has exposed how vulnerable the sector is with a limited view of the supply chain, and limited funding for working capital. Developing relationships with the millions of Kirana stores spread across India also gives the opportunity of revenue generation through supply chain financing – a largely ignored sub-sector until now."
Mukherjee thinks that this alliance will challenge players such as Amazon and Amazon Pay, Google Pay and PayTM. Ghatak also thinks that eventually, Jio Platform will have to either choose between or integrate the best features of WhatsApp Pay and the Jio Money Merchant payment gateways.
However, Ghatak offers a word of caution on the downside risks as well. "Partnering with Facebook is a hugely ambitious game plan for Reliance Industries. The success of its plans will also depend on how well it is able to curate the suppliers who are responsible for the actual delivery. In a consumer-driven business model, trust and customer experience cannot be compromised. The low asset, high leverage and high reach model can unravel itself if the customer gets the short end of the stick, in this rush for eCommerce domination."