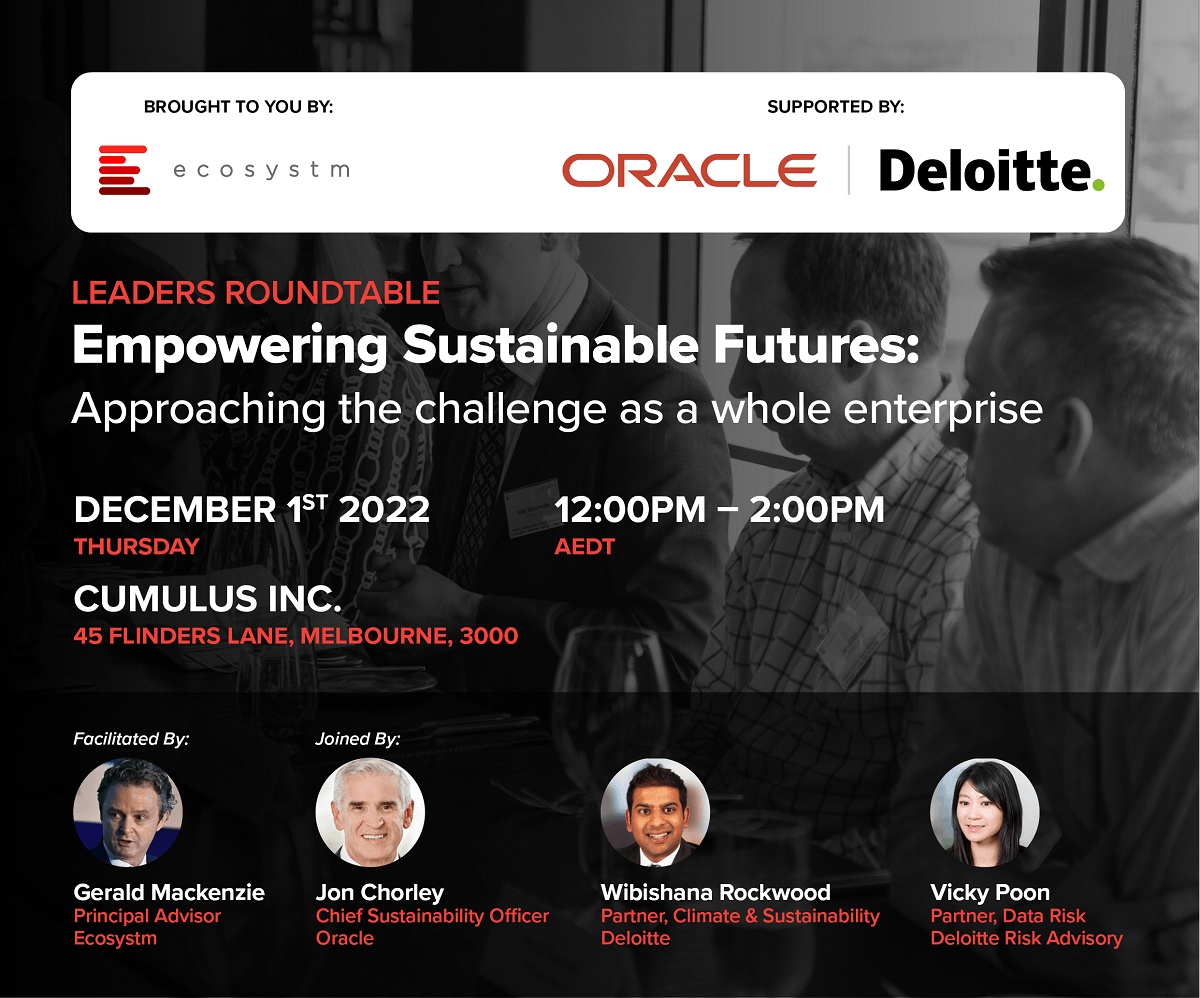 Leaders Roundtable: Empowering Sustainable Futures: Approaching the challenge as a whole enterprise
Executives across various industries are seeing enormous demand for transparency and action on sustainability goals.
Investors, funds, customers, regulators, staff, and communities want action on "Environmental, Social, and Governance" (ESG) concerns.
Executives are aware of the benefits a well-articulated and quantified sustainability strategy brings – brand equity, customer acquisition, risk management, and talent attraction and retention.
However, articulation is no longer enough. Governments, regulators & stakeholders are demanding more transparency & consistency in sustainability. They are demanding to see actions and impact and not just talk.
An Ecosystm research shows that:
While sustainability is a key focus for 61% of Asia Pacific organisations, only 23% have a clearly defined strategy to back it up.
55% of organisations consider access to the right data a major hindrance to their sustainability projects.
How can organisations drive structure and credibility into the discovery, progress measurement, and reporting of sustainability performance? What are the common challenges – such as the gathering of credible data both internally and from partners, the lack of common standards, effort and resources required to report on performance, and integrating reporting on financial and non-financial ESG metrics? How can a robust technology platform mitigate some of these challenges through efficient data collection and verification, better forecasting and scenario modelling, and design/automation of reporting?
Join this Executive Leaders Roundtable to discuss how you can support your organisation's sustainability goals, demonstrate the outcomes that your organisation wants to achieve, and communicate the progress to all internal and external stakeholders in a clear and credible way.

Oracle
Oracle Corporation is an American multinational computer technology corporation headquartered in Austin, Texas. The company sells database software and technology (particularly its own brands), cloud engineered systems, and enterprise software products, such as enterprise resource planning (ERP) software, human capital management (HCM) software, customer relationship management (CRM) software (also known as customer experience), enterprise performance management (EPM) software, and supply chain management (SCM) software.

Deloitte
Deloitte Touche Tohmatsu Limited commonly referred to as Deloitte, is an international professional services network headquartered in London, England. Deloitte is the largest professional services network by revenue and number of professionals in the world and is considered one of the Big Four accounting firms along with EY (Ernst & Young), KPMG and PricewaterhouseCoopers (PWC). Deloitte provides audit, consulting, financial advisory, risk advisory, tax, and legal services with approximately 415,000 professionals globally.