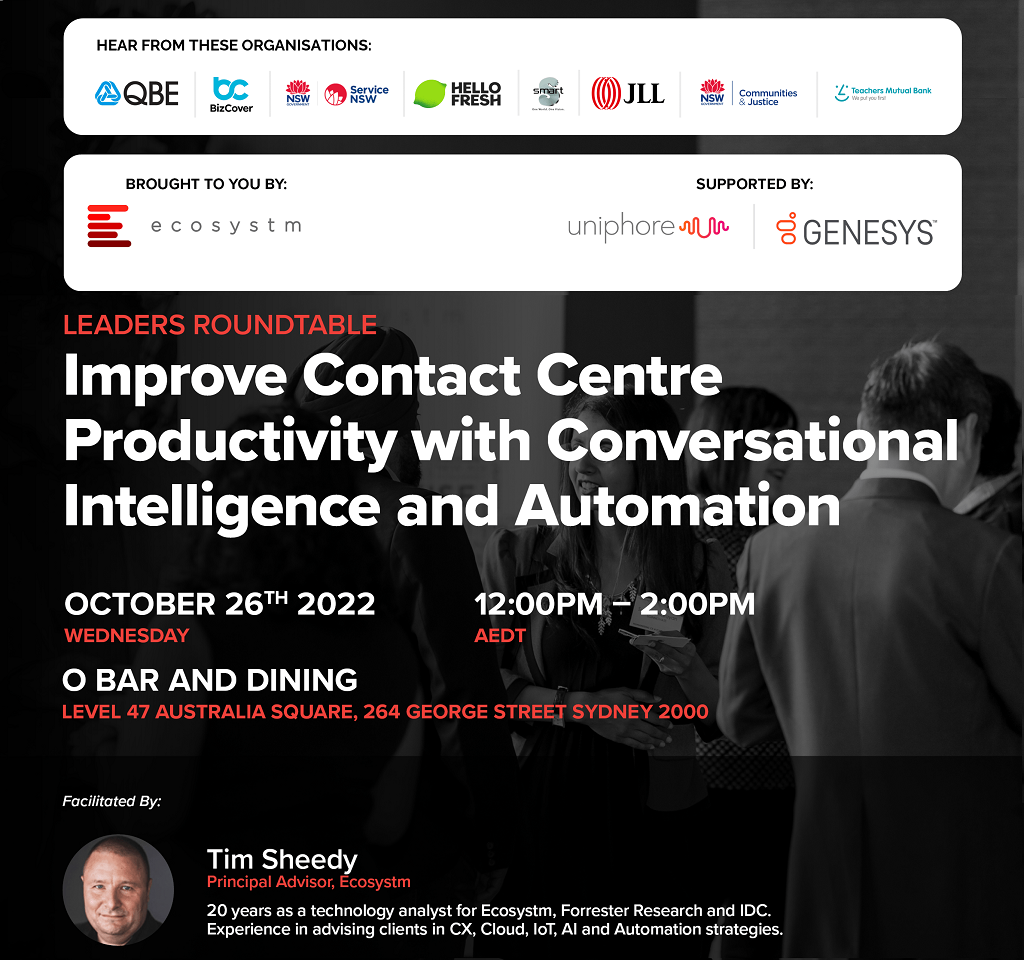 Leaders Roundtable: Improve Contact Centre Productivity with Conversational Intelligence and Automation
Contact centres are the frontline of your human customer experience – your hard-working team help customers at all stages of their journey with your brand, and they deal with your customers in every state of mind – happy, hurried, delighted, disappointed, rude or responsive.
They are often the heroes that save customer relationships, Recover customers from broken customer journeys, convert prospects to customers and upsell existing customers. But in this tight employment market, finding new team members is challenging and costly from a recruitment and onboarding perspective, while retaining high performers is even harder! It is so surprise that many contact centres are already short staffed – meaning long wait times for customers and less than optimum experiences.
Today, for many leading businesses, the focus is firmly on improving the agent experience to ensure better customer outcomes and happier, more productive team members. Smart businesses are deepening the automation of the agent experience – assisting agents during and after the call by providing in call guidance and automatic call summaries, leveraging natural language processing and AI to understand caller sentiment and intent.
Join us and your industry peers for this Executive Leaders discussion on how businesses are reducing operational costs, while improving the customer and agent experience. Hear from industry leaders and learn about their best practice deployments. This will also be an opportunity to share your own experiences in implementing automation and AI in your own customer journey and hear from your peers on how they are managing agent productivity in this challenging and unpredictable economic environment.

Uniphore
Uniphore is a conversational automation technology company. Uniphore sells software for conversational analytics, conversational assistants and conversational security. The company is headquartered in Palo Alto, California, with offices in the United States, Singapore, India, Japan, Spain, and Israel.