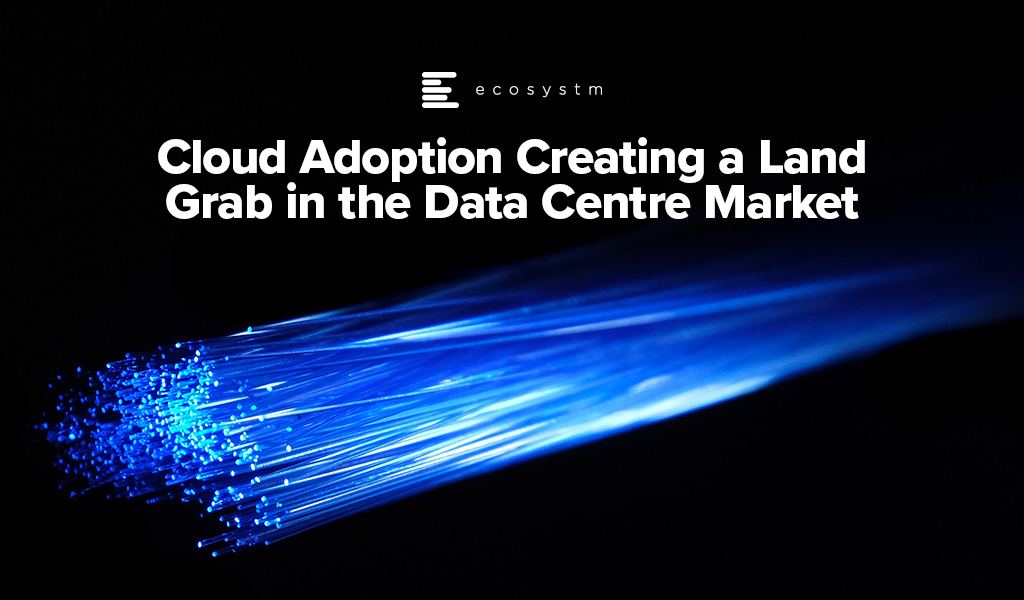 The emergence of COVID-19 last year caused a rapid shift towards work and study from home, and a pickup in eCommerce and social media usage. Tech companies running large data centre-based "webscale" networks have eagerly exploited these changes. Already flush with cash, the webscalers invested aggressively in expanding their networks, in an effort to blanket the globe with rapid, responsive connectivity. Capital investments have soared. For the webscale sector, spending on data centres and related network technology accounts for over 40% of the total CapEx.
Here are the 3 key emerging trends in the data centre market:
#1 Top cloud providers drive webscale investment but are not alone
The webscale sector's big cloud providers have accounted for much of the recent CapEx surge. AWS, Google, and Microsoft have been building larger facilities, expanding existing campuses and clusters, and broadening their cloud region footprint into smaller markets. These three account for just under 60% of global webscale tech CapEx over the last four quarters. Alibaba and Tencent have been reinforcing their footprints in China and expanding overseas, usually with partners. Numerous smaller cloud providers – notably Oracle and IBM – are also expanding their cloud services offerings and coverage.
Facebook and Apple, while they don't provide cloud services, also continue to invest aggressively in networks to support large volumes of customer traffic. If we look at Facebook, the reason becomes clear: as of early 2021, they needed to support 65 billion WhatsApp messages per day, over 2 billion minutes of voice and video calls per day, and on a monthly basis their Messenger platform carries 81 billion messages.
The facilities these webscale players are building can be immense. For instance, Microsoft was scheduled to start construction this month on two new data centres in Des Moines Iowa, each of which costs over USD 1 billion and measures over 167 thousand square metres. And Microsoft is not alone in building these large facilities.  
#2 Building it all alone is not an option for even the biggest players
The largest webscalers – Google, AWS, Facebook and Microsoft – clearly prefer to design and operate their own facilities. Each of them spends heavily on both external procurement and internal design for the technology that goes into their data centres. Custom silicon and the highest speed, most advanced optical interconnect solutions are key. As utility costs are a huge element of running a data centre, webscalers also seek out the lowest cost (and, increasingly, greenest) power solutions, often investing in new power sources directly. Webscalers aim to deploy facilities that are on the bleeding edge of technology. Nonetheless, in order to reach the far corners of the earth, they have to also rely on other providers' network infrastructure. Most importantly, this means renting out space in data centres owned by carrier-neutral network operators (CNNOs) in which to install their gear.
The Big 4 webscalers do this as little as possible. For many smaller webscalers though, piggybacking on other networks is the norm. Of course, they want some of their own data centres – usually the largest ones closest to their main concentrations of customers and traffic generators. But leasing space – and functionalities like cloud on-ramps – in third-party facilities helps enormously with time to market.
Oracle is a case in point. They have expanded their cloud services business dramatically in the last few years and attracted some marquee names to their client list, including Zoom, FedEx and Cisco. To ramp up, Oracle reported a rise in CapEx, growing to USD 2.1 billion in the 12 months ended June 2021, which represents a 31% increase from the previous year. However, when compared to Microsoft's spending this appears modest. Microsoft reported having spent USD 20.6 billion in the 12 months ended June 2021 – a 33% increase over the previous year – to help drive the growth of their Azure cloud service.
One reason behind Oracle's more modest spending is how heavily the company has relied on colocation partners for their cloud buildouts. Oracle partners with Equinix, Digital Realty, and other providers of neutral data centre space to speed their cloud time to market. Oracle rents space in 29 Digital Realty locations, for instance, and while Equinix doesn't quantify its partnership with Oracle, Oracle's cloud regions across the globe access the Oracle Cloud Infrastructure (OCI) via the Equinix Cloud Exchange Fabric. Oracle also works with telecom providers; their Dubai cloud region, launched in October 2020, is hosted out of an Etisalat owned data centre.
#3 Carrier-neutral data centre investment is surging in concert with webscale/cloud growth
As the webscale sector has raced to expand over the last 2 years, companies that specialise in carrier-neutral data centres have benefited. Industry sources estimate that as much as 50% or more of the cloud sector's total data centre footprint is actually in these third-party data centres. That is unlikely to change, especially as some CNNOs are explicitly aiming to build out their networks in areas where webscalers have less incentive to devote resources. It's not just about the webscalers' need for space; the need for highly responsive, low latency networks is also key, and interconnection closer to the end-user is a driver.
Looking at the biggest publicly traded carrier-neutral providers in the data centre sector shows that their capacity has expanded significantly in the last few years (Figure 1)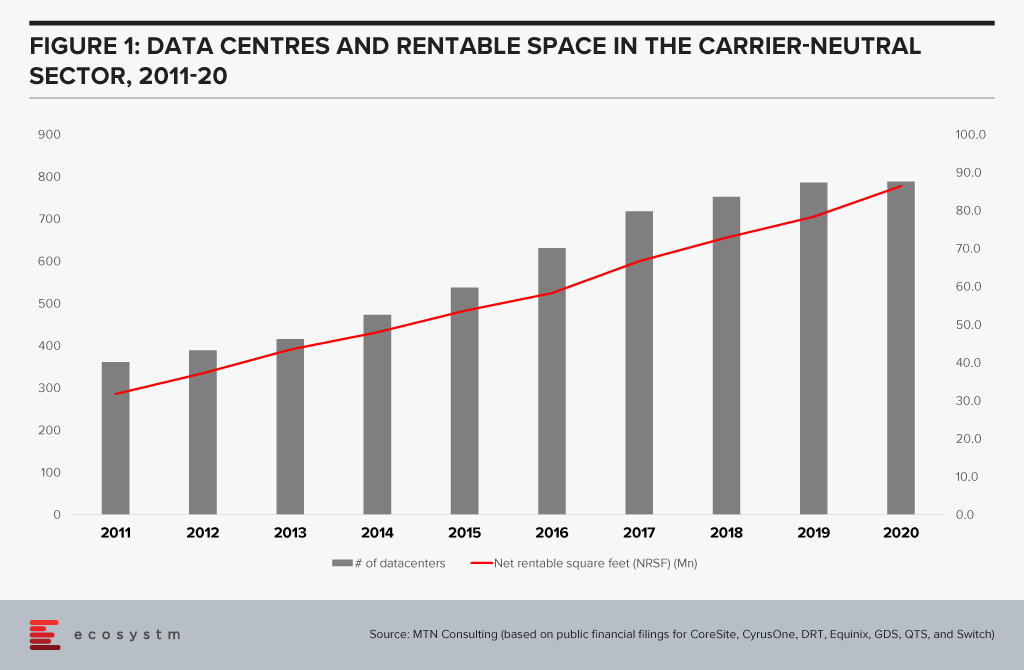 By my estimation, for the first 6 months of 2021, CapEx reported publicly for these CNNOs increased 18% against 1H20, to an estimated USD 4.1 Billion. Beyond the big public names, private equity investment is blossoming in the data centre market, in part aimed at capturing some of the demand growth generated by webscalers. Examples include Blackstone's acquisition of QTS Realty Trust, Goldman Sachs setting up a data centre-focused venture called Global Compute Infrastructure; and Macquarie Capital's strategic partnership with Prime Data Centers.
Some of this new investment target core facilities in the usual high-traffic clusters, but some also target smaller country markets (e.g. STT's new Bangkok-based data centre), and the network edge (e.g. EdgeConneX, a portfolio company of private equity fund EQT Infrastructure).
EdgeConneX is a good example of the flexibility required by the market. They build smaller size facilities and deploy infrastructure closer to the edge of the network, including a PoP in Boston's Prudential Tower. The company offers data centre solutions "ranging from 40kW to 40MW or more." They have built over 40 data centres in recent years, including both edge data centres and a number of regional and hyperscale facilities across North America, Europe, and South America. Notably, EdgeConneX recently created a joint venture with India's property group Adani – AdaniConneX – which looks to leverage India's status of being the current hotspot for carrier-neutral data centre investment.
As enterprises across many vertical markets continue to adopt cloud services, and their requirements grow more stringent, the investment climate for new data centre capacity is likely to remain strong. Webscale providers will provide much of this capacity, but carrier-neutral specialists have an important role to play.